WELCOME TO MY HOMEPAGE
I am Jim Duell from Warsaw, NY. I am an avid Photographer doing pictures of Truck & Car Shows and Trains & Depot Pictures from around the area. I have over 68,000 pictures in my collection with both photos & Digital Photos. I started out in 1972 by taking pictures for the Perry Fire Department of all the alarms, Events, & Special Occasions. Since June 02, 2009 I could no longer take pictures of any alarms and post them on the internet. This was only a Wyoming County thing cause other counties can do it without any problem. Our department celebrated its 125th Anniversary on June 07, 2012 and will be a weekend for great pictur. At least I will have a nice photo album of these to go along with my 100th Anniversary Pictures I took back in 1987. I have 2 - DSLR Digital Cameras that I use for all of my digitals. I havent done prints since 2005 when I got my new Konica - Minolta 7D DSLR with a 70 - 200mm Wide Angle Lens. Then in April 2010 I purchased a new Sony A330L DSLR stepping up to a 12.3 MP Camera. I have a Canon A720 that I keep in my pocket that I use alot for around town pictures. I belong to the Empire State Antique Truck Association with over 100 members now and in 2011 I took 4500 pictures at all the events and shows that we attended from April to October. In February of 2012 I joined the Great Lakes & Attica Centrat Model Railroad Club out of Wyoming, NY. I am the 8th Member to belong to this club. I am locating places where there are shows and Festivals across New York State along with club events for the 2013 season. I will be putting them on the web when I get them all at http://jimduellcollection.org on the events page. We will be going on our ESATA Spring Bus Trip on April 21, 2012 to New Waterford, Ohio to visit a car collection there. It will be about a 4 hour trip one way and will have to leave early in the morning to get there by noon. Looks like an exciting day. Well, it rained all day in Ohio and everything was kept inside during our visit. It was hard getting pictures when all the trucks were parked so close together. Hasen't been a good week back home. My mom has been in a nursing home since last June and 3 days after we got back from our bus trip she passed away. At least she won't be suffering anymore. Its going to be different not being able to see her every day like I have been since last June. Spent most every weekend last summer moving.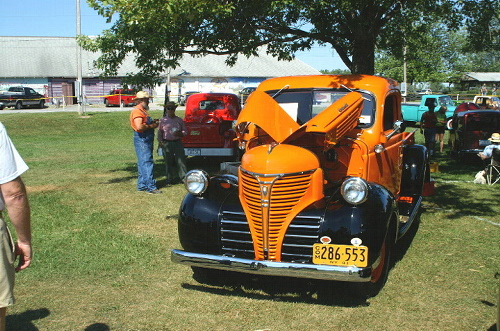 SUMMER OF 2011
I am a big photographer. Started out back in 1972 doing fire photography for the Perry Fire Department which I am a member of since 1971. I now have over 65,000 photos in my collection. I started out using a Kodak 30 110mm camera which was my first camera. I graduated into 35mm film and now digital photography. I love spending weekends going to Truck & Car Shows along with spending a week in ake George, NY at the Adirondack Balloon Festivals and Oswego Harborfests. I also love going around the area and get pictures of trains & depot pictures. My favorite place for getting great train shots is in the City Of Hornell NY at the Erie Railroad Depot & Museum on Loder Street. Probably have over 300 pictures of trains passing through Hornell standing on the viaduct above the tracks. Check out my flickr page and look for the depot pictures. I have just joined the Great Lake & Attica Central Model Railroad Club in Wyoming, NY. I am the 8th member to join the club. Check out my Flickr page and look for all the Trains & Depots on this site. Also check my Webshots site at http://community.webshots.com/user/duelly for more pictures of railroads, truck & car shows and much more. http://www.flickr.com/photos/jimduellcollection These two site has over 80,000 pictures on it and I keep adding all the time. Check back soon !!
1941 PLYMOUTH PICK UP AT ATHS SHOW
This Orange & Black Plymouth Pickup Is Owned By Robert Manke Of Lockport NY. This is a beautiful truck here at the Antique Truck Historical Society Truck, Tractor & Construction Show In Batavia NY. This Show Is Always The First Sunday In August Of Each Year.
NEW SONY A330L DSLR

In April Of 2010 I Purchased A New Sony A330L Digital Camera For This Years Events I Have A 16GB Card That Now Is Full Saving The 3800 Pictures From April 10 To July 31, 2010 And Now I Am Working On An 8GB Card To Use With This Camera That Will Allow Me To Take Over 2400 Pictures. This Is Super !!!! I Can't Wait To Fill The Cards With Lots Of Great Photos. In 2009 I Took 10,300 Pictures Covering A Whole Lot Of New York State. In September Of 2009 Carol & I Headed For Tupper Lake For A 7 Day Stay. Each Day We Were Here We Went A Different Direction T Visit Places Where We Have Never Been. I took 2000 Pictures For The Whole Week While There. Through Out The Summer Months Of 2010 We Went To A Few Truck Shows, Car Shows. Had Our Spring Fling On April 24, With A Cruise Through Central New York Stopping In Cuylerville, Waterloo, NY, Seneca Falls NY, Auburn NY. Was A Nice Sunny Day For This Bus Trip Took 518 Pictures Today. On June 04, Was The Genesee Valley Chapter Of The ACCA Held There Show At The Genesee Valley Adademy In Leicester NY Took 98 Photos Here Today Using My Sony A330 Camera. Then Left Here And Went To FLCC In Canandaigua To See The Car Show Here Today But, It's Tomorrow But, I Did Get Some Pictures Of Some Of The Cars & Trucks Already Here On Display. I Took 148 Photos Today But, Will Surly Be Back Tomorrow. On June 5, Was Eastern Division ACCA Car Show At The CMAC Parking Lot In Canandaigua, NY This Was Another Cloudy And Sunny Day. Took A Lot Of Pictures Today With Over 500 Cars & Trucks Here For Display. Ended Up Taking 954 Pictures In A 4 Hour Time Frame. Then On June 20, Was The Father's Day Car Show At Kanakadea Park In Hornell NY Took A Total Of 610 Photos Today. On Wednesday Evening July 21, Our ESATA Club Met At The Genesee County Fair For The Annual Antique Car Show. Had Sunny Skies For a Few Minutes Then The Rains Came For About A Half Hour Realy Hard And Finally It Quit. Then The Sun Came Back Out And Was Nice After That. I Took 223 Photos Tonight Of All The Car Show and The Fair That Was Going On. On August 01, Was The 24th Annual Antique Truck, Tractor & Construction Equipment Show At The Genesee County Fairgrounds In Batavia NY Had A Nice Sunny Blue Sky Day Here And Had A Total Of 145 Trucks Come Through Registration Today. I Took 854 Pictures using 3 Different Cameras. On Saturday August 14, Carol & I Went To Erie County Fair In Hamburg. Was A Hot And Sunny Day With Lots Going On Today. We Both Stopped At Cal's Barbeque And Had A Huge Ham Sandwich That We Have Each Year We Go. Met Senator Schumer And Got My Picture Taken With Him. Took 216 Photos Today. On August 17 Steve & I Went With The ESATA Truck Club To Caledonia Diesel In York, NY For A Tour Of Their Facility. I Took 144 Pictures Tonight While Here.On Saturday August 28 Carol & I Was Invited To Corky & Pat Shaw's 50th Anniversary Party At Their Home In Byron, NY. He Wanted Me To Take Pictures During The Party. I Took 172 Photos Today. On Labor Day Weekend I Went With 3 Truck Club Members To A Antique Truck Show In Harford PA. This Was A Nice Sunny Day And About A 5 Hour Trip Down And 5 Hours Coming Back I Used My Sony A330 Digital today As It Was A Little Cloudy But, Lots Of Blue Sky. I Took 436 Pictures And There Was A Total Of 183 Trucks On The Grounds Today. The Following Weekend Was The Western New York Gas & Steam Engine Show In Alexander NY. This Was The First Time We Have Ever Been To This Event. Was A Nice Sunny & Warm Day With Lots To See With Great Food, Yard Sales, Lot And Lots Of Steam Engines All Running Which Was Inpressive. This Is A 4 - Day Event. Took 784 Photos Today. On Tuesday September 21, Carol & I Went To The Hershall Carousel Factory & Museum In North Tonawanda, NY With The ESATA Truck Club. I Took 172 Pictures Here Tonight. On Sunday October 03 Was The ESATA Club Fall Drive Around This Year Going To Arcade, Chafee, Bliss, Eagle. Started Our At The Strawberry Fields Cafe In Chaffee For Breakfast. From Here We Took About A 2 Hour Drive Around The Town Of Arcade, & Eagle Ending Back At The Arcade & Attica Railroad At 2PM For A Train Ride To The Curriers Depot And Having A 30 Minute Layover Then Back To Arcade. Ending At The Hearst Restaurant In Chafee For A 5PM Dinner. Lasted Till 6:30 And Time To Head For Home. I Took 415 Pictures Of All Todays Events. On Tuesday October 12, The Perry Fire Department Hosted A Mercy Flight Ground School At Our Firemens Grounds In Perry, NY. I Took 26 Pictures Tonight. It Was A Nice Sunny Blue Sky Day On October 16 So, Carol & I Went And Visited The Lehigh Valley Railroad Depot In Industry, NY Did A Lot Of Walking Today And Sure Felt It Later That Day. I Took 433 Pictures Here Today Of The Depot, Trains, Cars, Old Erie Railroad Cabooses, B&O Caboose, Very Much To See Here Today. Then The Following Day Carol & I Went To Hornell And Got Some Pictures Of The Depot While Waiting For A Train To Pass Through The City. Waited 2 Hours And Still No Train So, We Went To Burger King For Something To Eat And Wouldn't You Know It The Train Passed Through. I Got 159 Pictures Today And Seen No Train. On Sunday October 31 Was Halloween At The Perry Fire Hall. We Had Cider & Donuts For The Kids And 20 Prizes Of $5.00 Each With 5 Top Winners That I Put In The Perry Herald. I Took 112 Pictures Tonight Of All The Different Costumes. On November 02, Election Day, The Perry Fire Department Sponsered A Chicken Barbeque At Our Firemens Building At The Park. Had A Great Turnout For People Voting And Getting A Barbeque. I Took 19 Pictures Today Of The Event.
NICESHOT.DUELL@GMAIL.COM
CHECK OUT THESE SITES

http://myclocks.freeservers.com http://railroadjim.20fr.com http://duelly.20fr.com http://aths.50megs.com http://sunsets.8m.com http://birdhouses.8m.com http://nysfob.4t.com http://newyorkfestivals.20m.com http://fire.20fr.com http://photographerjimduell.8m.com http://hotairballoons.8k.com http://firephotographer.50megs.com http://www.jimduellcollection.org http://photobuff.freehomepage.com http://jimduell.freehomepage.com http://mrkeeze.freeservers.com http://digitalsin7d.50megs.com http://perryny.20m.com http://esata.20m.com http://photographerjimduell.4t.com http://hankstruckpictures.com/jim_duell.htm http://perryballoonshow.4t.com http://smilesaysthisperryfiredepartmentphotographer.20m.com http://community.webshots.com/user/duelly http://spaamfa2005.8m.com http://jimduellcollection.4t.com http://digitaljim.homestead.com/firephotography.html http://blueskycountry.4t.com http://campingacrossny.7p.com http://www.flickr.com/photos/jimduellcollection/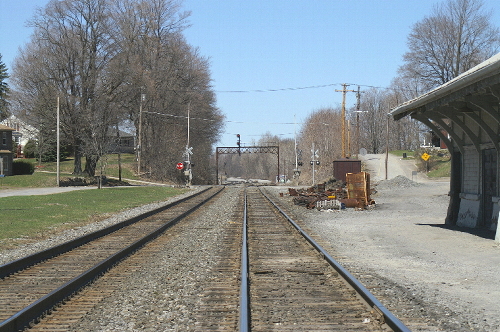 WEST BOUND ON THE N/S RAILROAD
While Passing Through Silver Springs The Other Day I Stopped And Got A Shot Looking West Bound On The N/S Railroad Tracks.
SEARCHING FOR JIM DUELL